Hey folks, I'm working on developing a unified brand for the coworking movement and raising a few bucks to make it happen.
Who'd be game for helping out? Here's the plan:
Develop high-quality logos & iconography

Provide the graphics for free online

Incorporate the new brand into the new forthcoming design for coworking.com, as well a

s the wiki and blog

Create Coworking Visa decals to put up in our spaces

Make stickers and shirts!
If we can raise $750 by Tuesday, I'll be able to take care of the designs and make run of stickers and shirts to bring to GCUC USA. For bigger contributors, I can mail you some.
If we raise more, I'll order more materials to distribute and perhaps even hire some professional help.
If you're game to chip in, send me some dollars here:
http://paypal.me/opencoworking
I'll update with progress!
Tony
PS - Why is this important? Because most people don't realize this coworking thing has a unified movement behind it with a set of values and an amazing community of people who are here to support them (this group!). And more people need to know about all of that. Plus, everybody likes stickers and shirts… why not some quality coworking schwag?
PPS - I'm going to handle version 1, but down the line would love to work with a branding agency that can donate some pro bono time. If you or someone you know can help, I'd love to get in touch!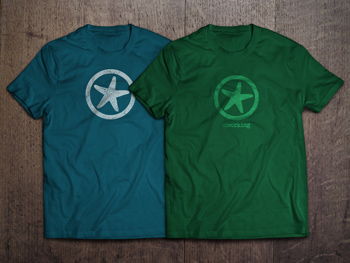 (Preliminary designs, mocked up)
···