Denver Coworks launched a beautiful coworking passport book this week. The goal is bring back more remote workers and freelancers to coworking since office-heavy spaces are starting to dominate the media coverage.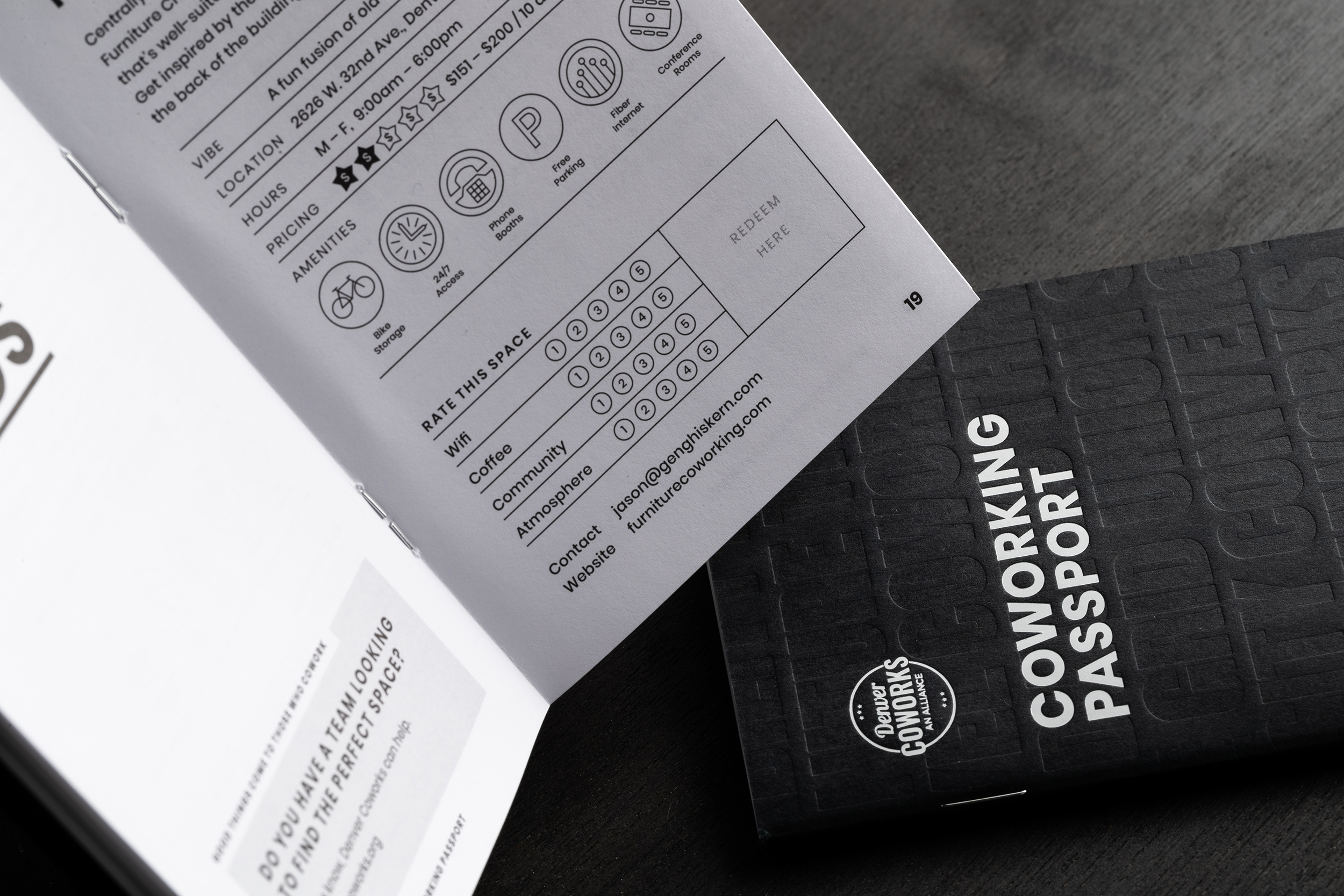 The passport breaks down the spaces by neighborhood and highlights the vibe and community the space has or trying to create. It also gives the user a place to review the space based on the community, culture, wifi, coffee, and some other things. The goal is to channel their reviews to go beyond just the physical basics and visuals of the space.
We've already had over 50 people RSVP to pick one up in the first three days of it launching. They all seem to be remote workers and freelancers, the very target we are trying to invite back.
We had to limit it to 17 spaces because it would be too thick otherwise. We could have added a few more now that they are printed.
Offices have priced hot desking (traditional coworking) out of advertising
The problem in a competitive market like Denver is that the PPC campaigns for coworking is over $20. All of these advertisers are advertising offices so they are justified in spending over $20 just to get a person's attention. This has made it cost prohibitive for people to advertise coworking plans that target remote workers and freelancers. We needed to do something because the traditional coworkers are the soul of our community. The more we have of them the more our office members are engaged.
Working together to create the passport
Denver Coworks is an alliance of over 25 spaces in the metro area that promote coworking and help support each other. We meet monthly for education events, round table discussions that are open Q and As, share trends we are spotting in our community, meet and greets with brokers, share leads and availability, and to get to know the different communities.
Our website ranks second on most coworking terms for Denver. This helps us capture leads for our spaces and help direct them to the spaces we think would be the best fit for them. We share all leads in a Slack group.
We pay a $250 annual fee and attract sponsors that helps support the meetings, website, and allows us to do experiential marketing like the passport.
Here is a little video we put together to promote the passport

I'll provide updates on the results
I'll keep the group posted on results and how big of an uptick we get in coworking members. If this successful, I would love to see this be in more cities.