Hello,
With any community, dishes are often times a sticking point. We've come up with some fun psychological aids to help "encourage" folks to take care of their own dishes while at the same time not badgering everyone.
Tips:
B) Everyone loves kittens and puppies
A) A fake camera goes a long way
C) Be nice!!!
The attached picture is what we currently have up over our sink bringing together all three of these elements. Another tip is to change out your signs regularly so they don't blend into the background as much. We have used Mr T, Sarah Palin and my favorite Dish Karma to help get the message across.
What tricks have you guys used? What's worked well, and what hasn't worked out?
Jacob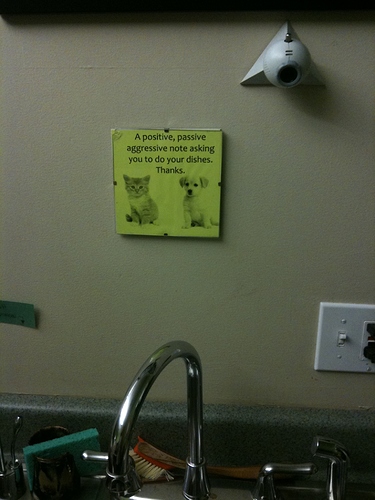 ···

---

Office Nomads - Individuality without Isolation
http://www.officenomads.com - (206) 323-6500