Hey all,
Without getting into too much introduction and details, I'll just cut right to it.
I'm opening a space next week in South Dakota. Working on finalizing details right now, and one thing I'm not too sure about is internet. We've got 20 members or so pre-signed to move in day 1 and in trying to plan for the future, am trying to figure out what sort of internet speed I need, and what sort of router to handle the space's size and amount of people. It's a long space, about 150ft, and we could very easily have 100 people accessing the network at any given time.
Any of the larger spaces out there have insight? I'm currently looking at an internet speed of 50 down/10up or 100 down/15 up. Also am looking at 801.11n routers that have two to three adjustable networks built into the device.
Would love some thoughts.
Best,
Josh Aberson
m: 521.6158 | @JoshAberson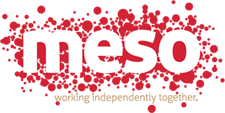 220 S. Phillips Ave.
Sioux Falls, SD 57104
@workmeso